Attending events is the easiest and most valued way to network with other professionals in your sphere.
Forming quality relationships is hands down the most essential and powerful skill for any aspiring business to succeed. And it's important not to get left out.
Networking is the first-rate method to expand your company and its broader reach by establishing connections with key stakeholders, all whilst increasing your knowledge and skills in the industry from expert speakers.
At these renewable energy conferences, you might just build long-lasting connections that your business needs in this rapidly expanding market or showcase your business strengths to the world's best. Essentially, it's an opportunity to help your business thrive.
You never know who you could meet….
Sound good?
We've compiled the top 5 renewable energy events to get you started.

Global Offshore Wind
The largest gathering for the global offshore wind industry.
When: 14th- 15th June 2023
Where: London, UK
This one is a must. Organised by Renewable UK, Global Offshore Wind is an annual gathering of 5000+ attendees, industry leaders, experts, and policymakers, with a representation of 50+ countries!
It's the perfect opportunity to put your company in the spotlight, connect and establish relationships with industry professionals face-to-face, and explore the emerging tech and solutions to grow your company.
Learn about the latest developments, innovations, policy changes and market trends from over 200 expert speakers and exhibitors within the Offshore Wind Industry.
Find out more here: https://events.renewableuk.com/gow23

World Hydrogen Summit and Exhibition
The official global springboard for hydrogen deals and project developments around the world.
When:13th-15th
May 2024
Where: Rotterdam, Netherlands
This event is the perfect opportunity to network with decision makers and stay informed with policy makers in the industry, in order to change strategies going forward.
Run by the Sustainable Energy Council this event joins leading international energy professionals with key government representatives, providing a platform to generate quality hydrogen business to drive the energy transition.
Showcase, collaborate and make important deals with over 11,500 key decision makers, Energy Ministers, and CEOs from over 100 countries. Don't miss the C-Level summit, exhibition, Africa Hydrogen Forum, H2 Tech Series Insights, World Hydrogen Awards, and site visits to the Port of Rotterdam hydrogen projects.
Learn more here: https://www.world-hydrogen-summit.com/

Global Energy Transition
Promises to deliver the most senior, engaging, and meaningful conversations on energy in the world.
When: 7th – 8th June 2023
Where: New York, USA
One of Reuters' biggest events, Global Energy Transition is the most important senior conference for the industry.
Get market trends, analysis and direction-setting strategy from 750+ executive decision makers, and 100+ CEO & Executive speakers. Learn about emerging cutting-edge technologies at the tech exhibition. Attend closed-door round table sessions to foster connections between you and other professionals.
Get your company the attention it deserves by revealing your news, setting industrial benchmarks and set new heights on your climate goals to industry leaders.
Learn more here: https://events.reutersevents.com/energy-transition/global-energy-transition-new-york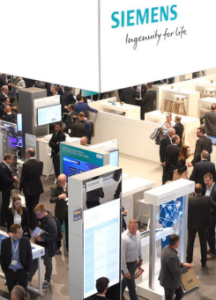 ees Europe
The continent's largest and most international exhibition for batteries and energy storage systems.
When:14th- 16th June 2023
Where: Munich, Germany
This annual event brings together the world's leading Manufacturers, Distributors Project developers, System integrators, and Professionals in battery technologies and Green Hydrogen.
The conference is devoted to energy storage, one of the most widely discussed topics in the renewable energy industry.
The event provides a platform for technology experts, policymakers, and business professionals to share their valuable knowledge and experience and offers an opportunity to connect with the world's industry leaders.
Learn more here: https://www.ees-europe.com/home

Solar Power International
This Gold Standard award-winning event is the largest solar show in North America.
When: 11th – 14th September 2023
Where: Las Vegas, NV
The Main event of RE+, Solar Power International provides an opportunity to network with top North American Solar professionals to share the latest insights that impact your business + show the latest products and services on offer within the industry.
Attendees boast representation over 24 sub-sectors, including installers, contractors, and major utility companies, among others.
Network in the Expo-Hall and connect with hundreds of installers, developers, manufacturers, and other key stakeholders. Further your knowledge and skillset with a full conference education - a detailed, comprehensive showcase from leading companies.
Learn more here: https://www.re-plus.com/solar-power-international/
Conclusion
Attending any of these top 5 events is the best way to connect with like-minded stakeholders in your industry. Forming strong business relationships at vast conferences like these can do wonders for your company's growth, mission, and potential.
Ultimately, having a strong network and staying up to date in this innovative industry is monumental to your business thriving or diving.
Are you ready to book in your next event?